Know the Top reasons to invest in Bowmanville's Real Estate: Here are three reasons why we continue to invest in this great city. Cash Flow, Expansion 407, and Go Train for this highly sought-after community.
Months after television trucks flocked to the city with cameramen and producers, the wacky community of 43,000 people about an hour's drive east of Toronto found themselves in the national spotlight with the start of the second season of "Million Dollar Neighborhood."
Bowmanville is a family-friendly city and, among many community events, it hosts three main festivals during the warmer months and two during the cooler seasons. Spring and summer events include the Maple Festival and All That Jazz, the Fabulous Fifties Festival, and Midnight Madness. Fall and winter events include the Apple Festival and Craft Sale, and the Christmas tree lighting ceremony at Moonlight Magic. The Bowmanville Santa Claus Parade has been held annually on the third Saturday in November since 1961.
Downtown Bowmanville has never looked better – the new interlocking brick sidewalks, pedestrian-friendly curb, and historic lighting make shopping a treat.
You can park in any municipal lot for free for two hours. A town bus service that stops in the center of the business area, with friendly local merchants and a variety of goods and services, there is no need to shop anywhere else.
From an investor's perspective, Bowmanville's purchase price for new single-family residences in the "sweet spot" ranges between $250,000 – $320,000. As experienced by some of our investors, the expected rental prices are in the range of $1600-$1800+.
When you've been in the game for a long time, you forget to go back and teach the basics. Real estate investing and the basics you need to be successful in life.
Why many people fail in real estate investing
People fail in real estate investing and leave it forever. What we about to share isn't rocket science, but it's incredibly important that you follow these rules. If not then be ready to face the consequences.
1. Wrong mindset
Over the years, we've talked about this incessantly. Many people think that mind and talent bring success or wealth, but it is not true. It helps, but it goes too deep.
Since we have heeded his teachings, my productivity and lifestyle have completely changed, however, there is a cost and it is important to have downtime and rewards during your journey.
2. Analysis Paralysis
This is by far the biggest issue that many of us beginner investors face. It is also called the fear of the unknown. We have seen sitting there that many investors come out month after month, year after year, and never take action.
We believe this is because they feel they need to come to another seminar if there is something they have missed or heard that will ensure their success. No one enters the forest without being bitten, scratched, scratched, or bitten and leaves the other side without telling a story.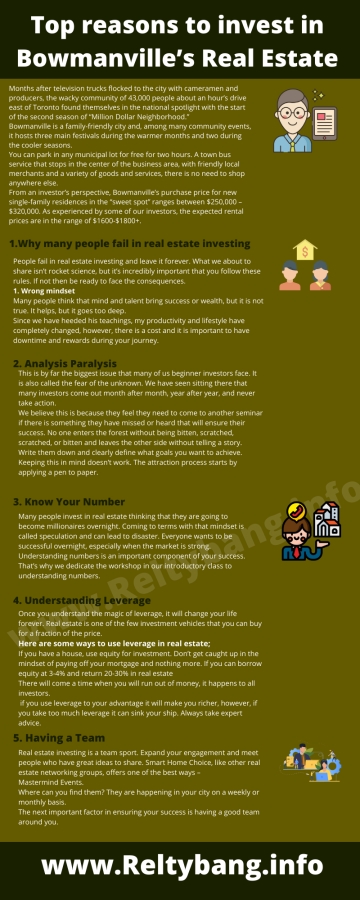 There comes a time when you have to leap of faith and this is the best way we know how to do it:
Write them down and clearly define what goals you want to achieve. Keeping this in mind doesn't work. The attraction process starts by applying a pen to paper.
Now here the secret formula gets missed the most. Understanding that purpose is stronger than anything. Read it again, and let it sink in.
Every moment is a moment of decision. Plan your day before starting your day.
3. Know Your Number
Many people invest in real estate thinking that they are going to become millionaires overnight. Coming to terms with that mindset is called speculation and can lead to disaster. Everyone wants to be successful overnight, especially when the market is strong.
This is the problem, the market will turn and people will be hit by hot potatoes.
Understanding numbers is an important component of your success. That's why we dedicate the workshop in our introductory class to understanding numbers.
4. Understanding Leverage
Once you understand the magic of leverage, it will change your life forever. Real estate is one of the few investment vehicles that you can buy for a fraction of the price. What could be better than owning and controlling a property that will appreciate over time, make mortgage payments, and generate cash flow?
Here are some ways to use leverage in real estate;
If you have a house, use equity for investment. Don't get caught up in the mindset of paying off your mortgage and nothing more. If you can borrow equity at 3-4% and return 20-30% in real estate, it is said to be a game-changer.
There will come a time when you will run out of money, it happens to all investors. The only way to continue is to trade your experience for your money through joint ventures.
Keep this in mind, if you use leverage to your advantage it will make you richer, however, if you take too much leverage it can sink your ship. Always take expert advice.
5. Having a Team
Real estate investing is a team sport. Expand your engagement and meet people who have great ideas to share. Smart Home Choice, like other real estate networking groups, offers one of the best ways –
Mastermind Events.
Where can you find them? They are happening in your city on a weekly or monthly basis.
The next important factor in ensuring your success is having a good team around you.
Know everything and Top reasons to invest in Bowmanville's Real Estate at https://en.wikipedia.org/wiki/Bowmanville