Afghanistan's property market: Afghanistan, a decades-long domestic war, is still home to nearly 30 million people. According to World Bank data, more than one-third of the population lives below the poverty line, practically unable to meet their basic food and housing needs.
In 2016, Afghanistan was ranked 23rd on Global Finance Magazine's list of the poorest countries, while Transparency International listed it as the seventh most corrupt country in the world.
The US government has warned travelers desirous of going to Afghanistan about the possibility of landmines on the roads and the possibility of being looted or abducted anywhere outside of Kabul. Afghanistan is still one of the largest drug producers in the world, and is extremely poor in terms of quality of life and ease of doing business, but what does the country's real estate market look like?
Land dispute
One of the main features of the local market is its chaotic nature. There is no land registry system in Afghanistan, and the U.S. According to the International Trade Administration, approximately 80% of transactions are closed informally without any documentation to prove the seller's ownership.
This is why there are often multiple owners on the same land plot, while local courts are unable to resolve such lawsuits effectively. In general, with controversial and incomplete laws and property lawyers who lack the necessary skills, the market is controlled.
Looking at business conditions in the five Afghan provinces – Kabul, Balkh, Herat, Nangarhar, and Kandahar – the World Bank has calculated that property registration in the capital takes an average of 8 months and costs about 5% of the value of the property.
Illegal construction
According to Afghanistan Independent Land Authority (ARAZI) CEO Jawad Parkar, two-thirds of the residential properties in the country's major cities have been illegally constructed. It takes 12 months to issue an official construction permit and costs about 80% of the value of the property. It is cheaper and less time-consuming in Kandahar, which takes about 3 months and costs 28% of the price.
Demand for affordable residential property
According to the International Monetary Fund, in 2010 foreign aid accounted for 97% of Afghanistan's GDP. The NATO alliance and donor countries have made generous contributions to the resettlement projects.
According to official figures, the amount of such investment ranged from $ 2 billion to $ 10 billion per year. In the mid-2000s, Kabul experienced a construction boom, during which abundant prime housing was built for international experts, embassy staff, lawyers, and government officials. However, in 2012, the NATO alliance announced its decision to leave Afghanistan. As a result, the investment attractiveness of capital decreased dramatically. Many projects were halted, and real estate prices in Kabul dropped by 30–50% over several months.
As reported by local law firm Masnad Legal Consultancy, the country needs 500,000 new-built flats and homes annually, citing Afghanistan's Ministry of Urban Development and Housing.
Big cities are in dire need of cheap housing for their residents. The population of the capital has increased by 25 percent from 32 lakh to 40 lakh in the last five years. Residents of rural areas are coming to Kabul in search of employment and a better and safer living environment.
Land Administration and Institutions
Land governance in Afghanistan is complex, involving many formal institutions and governance structures, as well as various informal (non-statutory) institutions, particularly in the resolution of land issues and disputes. The government of Afghanistan has been engaged in land administration since the early 1900s, mainly as a means of collecting taxes. The institutional structure has changed in those hundred years. 
The primary responsibility of land administration now falls. It is vested with authority in the following specific areas: (1) State-owned land inventory; (2) state land registration through the land rights identification process; (3) Land registration through the cadastral survey process (land survey); (E) Land transfer and exchange, mainly to other government divisions; (5) leasing of land to the private sector; And (6) resolving disputes related to state and public lands.
Land management in the state at the provincial and district levels through settlement commissions established in provincial capitals throughout Afghanistan. The Commissions address land ownership issues between individuals and government, and between government and governmental entities.
In addition, the Commissions make recommendations regarding the distribution of state land to private individuals. Their specific obligations and powers include, among others: disposal of land-holding areas; Distribution of documents and land; Determination of categories of land, water rights and taxation; Determination and segregation of lands as individual or state, as well as their classification such as grazing, dry, forest land; And the restoration of the land has already been illegally distributed to the owner or legal heirs.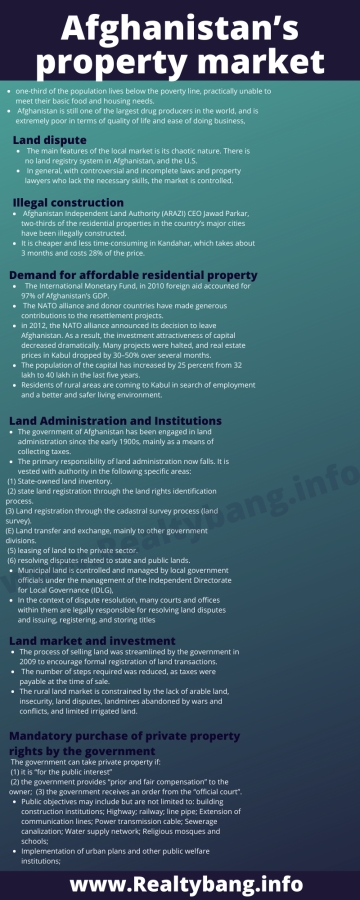 Municipal land is controlled and managed by local government officials under the management of the Independent Directorate for Local Governance (IDLG), and the Ministry of Urban Development and Housing (MUDH) master urban plans and policies to develop and support revenue and capacity. Construction programs for municipalities, including infrastructure and services, sanitation and preservation of historic areas.
In the context of dispute resolution, many courts and offices within them are legally responsible for resolving land disputes and issuing, registering, and storing titles. Related courts include public rights courts, civil courts, personal status courts, and commercial courts.
The Office of the Directorate of Documents and Deeds Registration, which includes the Protected Documents Registry and Court Archives, is located within the appellate courts at the provincial level and issues and maintains title deeds. Estimates suggest that more than 60 percent of all cases brought to the Shura or Jirga are related to a land dispute.
In general, despite the government's efforts, the existing institutional framework for land management and administration is not considered inclusive or pro-poor. Older systems, overlapping responsibilities, lack of capacity at the local level, conflicting systems for land ownership, and uncertain or incomplete legal structures, decades of conflict and conflicts between individuals, and competing claims to land among communities of widespread displacement. the result is. And between citizens and the state.
Land market and investment
Urban-based economic activity presently estimates for more than 50 percent of GDP in Afghanistan, yet the urbanization process remains largely informal. It is expected that 70 percent of urban property is unregistered. Nevertheless, the land market is a major source of municipal revenue. The sale of municipal land and properties is the largest revenue source, contributing an average of 22 percent of total annual revenue in Kabul and 19 percent in thirty-three cities across the country. Land leases account for an average of 13 percent of revenue, followed by seven percent for property leases. 
The process of selling land was streamlined by the government in 2009 to encourage formal registration of land transactions. The number of steps required was reduced, as taxes were payable at the time of sale. While these changes lead to improvements and simplifications in the transportation process, and some increase in the number of transactions, registered ownership may be subject to attack by others claiming superior rights.
Unexpectedly many land sales occur informally, making land transactions highly vulnerable to corruption and hindering legitimate development opportunities for future municipalities. Also, there is enough land to accommodate housing and development. Municipalities have an average of 27 percent of vacant plots in built-up areas, reflecting the sale of land by municipalities and private sector speculation. These vacant plots are enough to accommodate another 4 million people at the current density, enough for urban development in the coming 10 years.
The rural land market is constrained by the lack of arable land, insecurity, land disputes, landmines abandoned by wars and conflicts, and limited irrigated land.
Most land transactions are carried out by informal actions, relying on oral history and community knowledge to identify and use witnesses for authentication of identity and enforceability of rights.
Mandatory purchase of private property rights by the government
Under Article 40 of the Constitution, the government can take private property if: (1) it is "for the public interest"; (2) the government provides "prior and fair compensation" to the owner; And (3) the government receives an order from the "official court". The Law on Land Acquisition of 2000 (amended in 2005 and 2010), administered through the Council of Ministers, recognizes private property and provides for the acquisition of private land for public purposes.
Public objectives may include but are not limited to: building construction institutions; Highway; railway; line pipe; Extension of communication lines; Power transmission cable; Sewerage canalization; Water supply network; Religious mosques and schools; Implementation of urban plans and other public welfare institutions; Mining and extraction from underground reservoirs; Land of cultural or scientific importance; Arable land, large orchards and major vineyards that have economic value; And land for dams.
Other lands may be seized under extraordinary circumstances upon approval of the Council of Ministers.
Know the information about Afghanistan's property market at https://moi.gov.af/en