Langley has done well in focusing on micro-communities, such as in Willoughby where we are currently building. Real Estate in Langley has given boost to community. Each of these has its own unique experience.
They are organized around shopping centers and entertainment districts which all "gather" around the center of the community. Unlike the sprawl of other cities such as Surrey, Abbotsford, and Richmond, Langley has built walking communities.
What is Langley Skytrain?
In September 2020, TransLink announced the expansion of the Rapid Transit System, which would reach Langley Centre, aptly called the Surrey-Langley SkyTrain. Currently, it is only possible for Langley residents to access the SkyTrain system via public bus routes.
The extension is scheduled to follow the Fraser Highway from King George Station in Surrey until it reaches 203 Street in Langley. The cost of the project is expected to exceed $3.1 billion, of which half is currently available to developers. The project is expected to be fully funded through various staging scenarios.
Different Ways the Langley Skytrain Will Affect Langley Real Estate
Just as the development of a new light rail public transit system is bound to affect the overall feel and livability of any neighborhood it is also likely to have a direct influence on the surrounding real estate market. At Langley, this can be seen in several ways, including:
Increase in property values
First, let's start with the most obvious. If we look at how public transit extensions have affected other similar areas, the biggest one is that they almost always increase property values.
This is partly because residents find it more desirable to live in areas accessible to public transport. Homes with proper public transport access tend to sell faster and attract more buyer interest. 
Property near public transit extensions is projected to grow anywhere from 1% to 40%. Considering the trend of Vancouver real estate, which is on an upward trajectory, it won't be a surprise to many if Langley Real Estate makes a big jump in price given the expansion of the Skytrain.
Growth can become high density
There's an interesting caveat to the fact that homes closer to public transportation access tend to sell faster, and that the biggest property value gains are for multi-family homes. Because of this trend, it would be no surprise if the area around the new Langley Extension began to condense, leading to the development of more apartment or condo buildings as well as townhouses in Langley.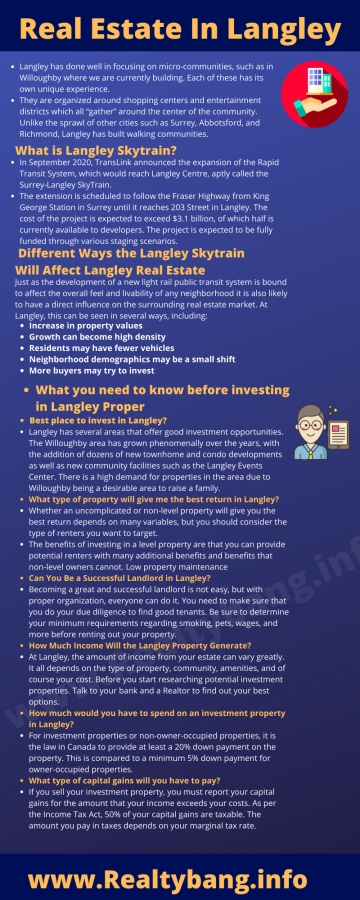 The reasons behind this are simple. Since public transport makes it more possible to transport many people in and out of the city center, high population densities do not result in poor traffic or liveable communities. Because of this, it can be easier for developers to get approval for building high-density communities.
Residents may have fewer vehicles
After its completion, the neighbors of the Langley Skytrain Extension can see a change in the habits and lifestyles of their residents. With public transportation more accessible than ever, it will come as no surprise that residents of Langley cut back on the number of family cars they own and opt to use the SkyTrain.
In response to these changing buyer habits, home developers can build homes with smaller garages, or homes that don't have garages at all.
Neighborhood demographics may be a small shift
Public transit can benefit everyone, but it especially caters to the lifestyles of young people who often go wherever the action is taking place. With a new SkyTrain expansion at Langley, more and more young people may find themselves turning to area real estate, especially if they are based out of other areas in Vancouver.
More buyers may try to invest
If you were already thinking about visiting Langley, now might be the best time to leap. Eventually, whispers of a new public transit expansion could result in a scramble to take land in the Langley area, as its property value is almost guaranteed to rise.
What you need to know before investing in Langley Properties
Best place to invest in Langley?
Are you considering buying an investment property in Langley? Now is an excellent time to invest with the growing community at Langley. Some of the many new developments and projects will make Langley an attractive place to live for families for decades to come. Langley has several areas that offer good investment opportunities. The Willoughby area has grown phenomenally over the years, with the addition of dozens of new townhome and condo developments as well as new community facilities such as the Langley Events Center. There is a high demand for properties in the area due to Willoughby being a desirable area to raise a family.
Even though Willoughby shows high potential for property investment, there are several other areas in Langley that are favorable as well. Your investment decision will depend on many variables and it is best to speak to a knowledgeable Langley Realtor to help you with your decision.
What type of property will give me the best return in Langley?
Whether an uncomplicated or non-level property will give you the best return depends on many variables, but you should consider the type of renters you want to target.
The benefits of investing in a level property are that you can provide potential renters with many additional benefits and benefits that non-level owners cannot. Low property maintenance and added additions like a pool and gym can make your investment property level an excellent home for many renters!
Can You Be a Successful Landlord in Langley?
Becoming a great and successful landlord is not easy, but with proper organization, everyone can do it. You need to make sure that you do your due diligence to find good tenants. Be sure to determine your minimum requirements regarding smoking, pets, wages, and more before renting out your property. When you meet with tenants use your gut instinct to make sure they will be a good fit.
How Much Income Will the Langley Property Generate?
At Langley, the amount of income from your estate can vary greatly. It all depends on the type of property, community, amenities, and of course your cost. Before you start researching potential investment properties. Talk to your bank and a Realtor to find out your best options.
How much would you have to spend on an investment property in Langley?
For investment properties or non-owner-occupied properties, it is the law in Canada to provide at least a 20% down payment on the property. This is compared to a minimum 5% down payment for owner-occupied properties.
What type of capital gains will you have to pay?
If you sell your investment property, you must report your capital gains for the amount that your income exceeds your costs. As per the Income Tax Act, 50% of your capital gains are taxable. The amount you pay in taxes depends on your marginal tax rate. However, if your business is buying and selling assets, 100% of your capital gains are taxable.
Know everything about Langley, British Columbia Here including Finances, Taxes, Laws and Policies.